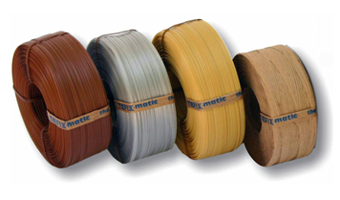 The original TIEFIX-matic ties for electronic tyers* are now finally available directly from the producer!
TIEFIX's well known reliability at an unbeatable low price, now available in up to 13 formats.

(* mod. Pellenc AP25 ™, Fixion ™ and compatibles)
The original TIEFIX-matic for electronic shoot-tyers*, made in Italy, is the tie-ribbon on which the first portable tyer had been developed and thoroughly tested in the 90's.

Today, an unmatchable range of 13 references is available from all TIEFIX salespoints worldwide to provide you with the best ribbon at the absolute best price. It is guaranteed by TIEFIX, the first and best tie ribbon for agriculture to be introduced by General Plastics in the 60's.
 
The popular TIEFIX-matic reels, the sole officially authorized by Pellenc™ for years, are known to be extremely reliable and inimitable for their challenging application. The special plastic ribbon's extruded profile prevents unwanted decouplings and frayings, so ensuring jamless tyer's feeding, as well as reliable binding.
A new expanded range is now available at unbeatable prices: plastic and paper, 60, 72, 90, 120, 200, 400 m. reels and… The very NEW… 500 m. JUMBO Dispenser, for a non-stop full workday, which allow you to save up to 30% on tying costs.
Today, the new 2k-Super paper allows you to apply 100% ecological ties even under heavy rain. No one else can offer you all this!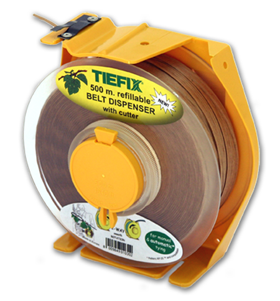 And now… The very new TIEFIX-matic 500 m. JUMBO belt-dispenser
The one and only 500 m (1640 ft.) format for electronic tyers* and TIEFIX-HD pliers for a non-stop workday. 

Save up to 30% on tying costs!

Another TIEFIX record: you won't find anything bigger anywere. Guaranteed!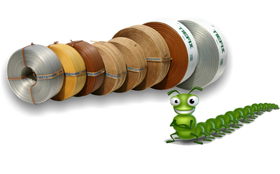 TIEFIX-matic offers the widest range of consumables for electronic tyers*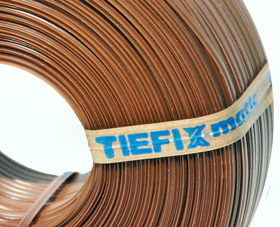 Make sure you buy the good ones… Make sure you buy the original TIEFIX!
Every TIEFIX-matic reel is marked one by one with a strap or a label.
Be smart! Buy with confidence our jamless ties… we have been producing bindings for over 50 years!
This video will show you how to use the new 500m. TIEFIX Jumbo dispense